I got my car when I was 16 years old and it was completley stock. I am now 19 years old and still working on it. It's a never ending project and I still have a lot more to do but so far it is looking pretty good. I drive this car every day except in the winter and I usually take it to about 8 shows a year around Michigan. I actually bought this car at a bank auction for $3,000. It was a "repo" car that the bank took from the orginal owner because they couldnt pay their payments which worked out well for me. The car had a couple flat tires, some dents in the fender and quite a few scratches on the side skirts and bumper of the car.
PLEASE NOMINATE ME FOR BEST V6 AND BEST DAILY DRIVER FOR THE 1994-1998 CLASS!!! ALSO PLEASE RANK ME & I'LL RETURN THE FAVOR!!!
Some things that I have done so far to my car are...
Blue Reflective Mustang Pony Side Decals
18" Custom Rims
Euro Head Lights & Corners
Xenon Head Light Bulbs
Mustang Rear Bumper Lettering
R Racing Seat Covers
R Racing Floor Mats
R Racing Steering Wheel Cover
Flip Down CD/MP3 Player
Two 12" Sony Explode 1200 Watt Subs
800 Watt Kenwood Amp
Lambo Doors
Metallic Blue Interior Paint
Three Blue 15'' Neon Bars
Blue Strobe Lights In The Head Lights
Blue Neon String Light Around Dash
Blue Neon Around CD Player
Three LED BLue Switches
Black & Blue Flame Anteena
Blue Flame Neon Food Pedals
Dynomat
Blue "Objects In Mirror Are Lossing" Stickers
New warning stickers on visors (girls remove bra)
Skull Blue LED Windshield Nozzle
Skull Door Lock Pins
Blue Wire Loom In Engine
Mustang Windshield Decal
Painted Blue Brake Caliper
Things that will be done to my car by the end of April 2008
Black Widow Full Body Kit
Black Widow Hood Kit
Z3 Fenders
Flowmaster Muffler
Custom Paint Job -Black with some sort of blue strip and metal flake
Dual Exhaust
Engine Dress Up (paint, wire loom, few new parts)
Custom Trunk Lid Mat
Blue Flame Gauges
Blue Flame AC Knobs
Euro Tail Lights
Black 5% Window Tint
Black/Blue Flame Pony Grille Emblem
Car Alarm
Radar Detector
GPS System
Billet Grille Insert
Two 7'' TV/DVD-Monitors In Sun Visors
In Dash 7'' CD/DVD/MP3 Player/Monitor
PS2 In Glove Box
Bazooka NOS Bottle Subs In Trunk
Trunk Lighted Up With Blue Neons
Blue Strobe Lights In Engine Bay
So far my car has won 1st place at two car shows, hopefully after this winter I'll have a few more trophies to add to my collection!
more pictures will be up soon, currently doing a lot of work to the car so thats the reason for not many pictures. After I'm finished with car shows and get some of the work done I'll update so check back my site about the end of October and I should have way more pictures! Thanks for stopping by and please rank me and I'll return the favor!
Here are a couple pictures of my car...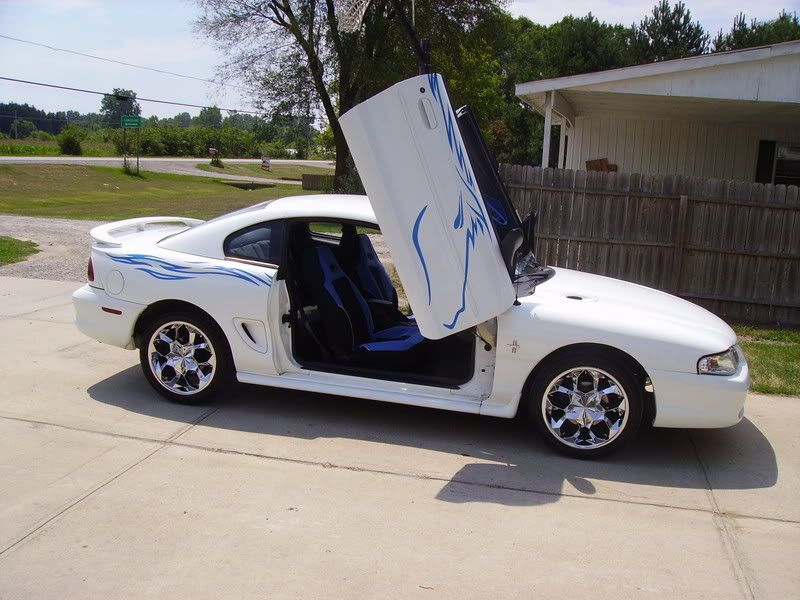 As of right now.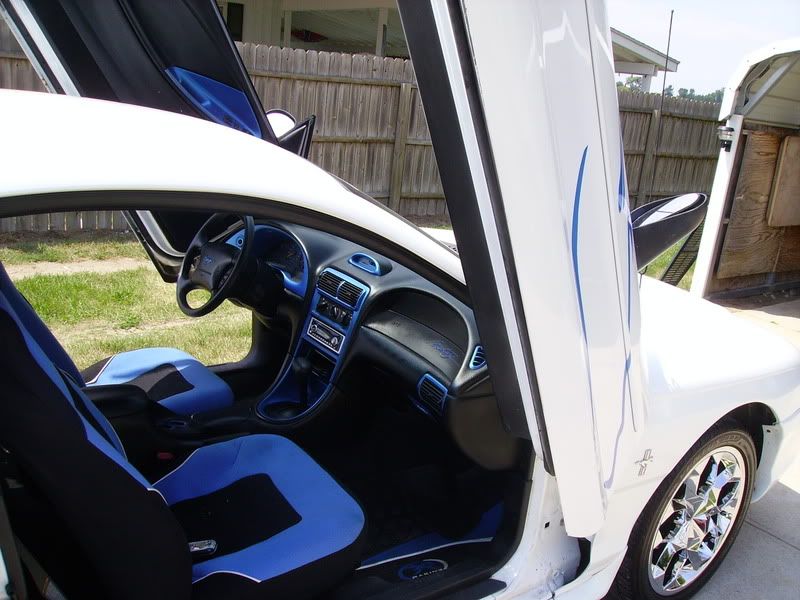 Shot of The Interior
2007
Mid-Michigan Mustang Club Car Show In Birch Run,MI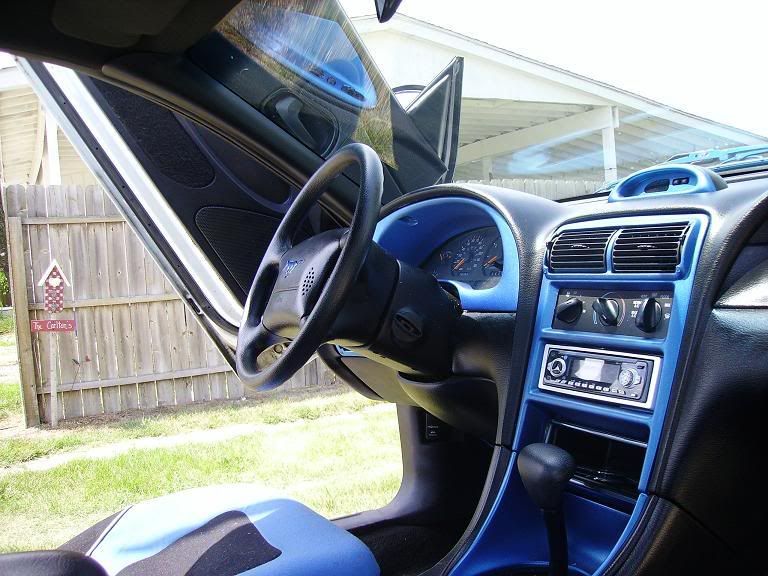 Interior Shot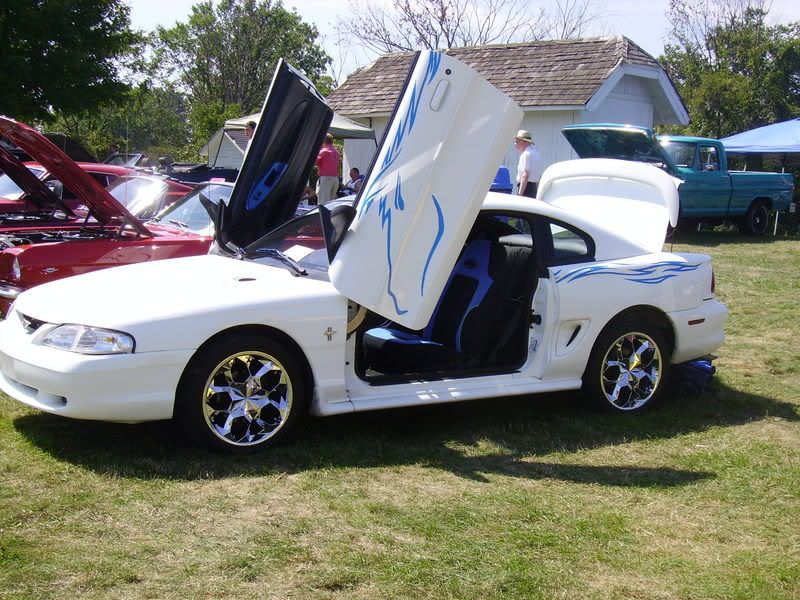 2007 Mustang Memories Car Show in Livonia,MI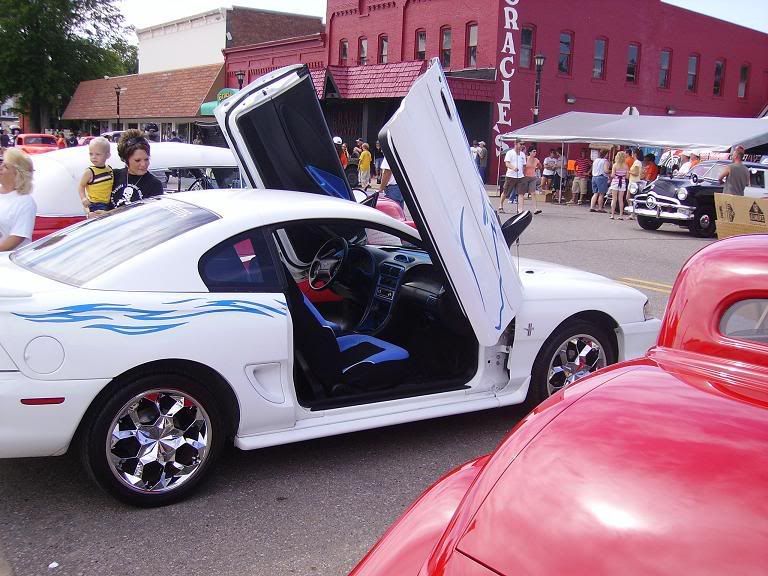 2007 New Lothrop,MI Car Show
Another Shot From NL Show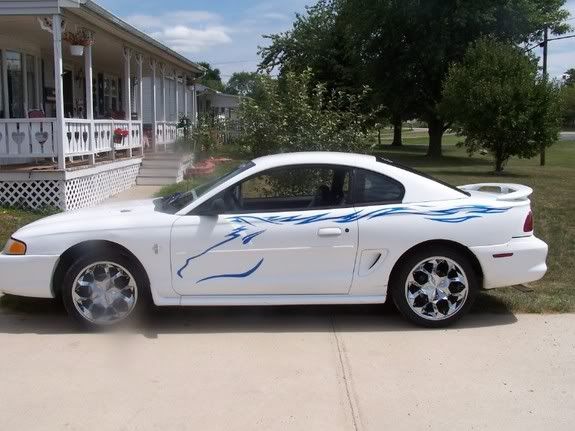 Shot with the doors closed and the old ugly orange head lights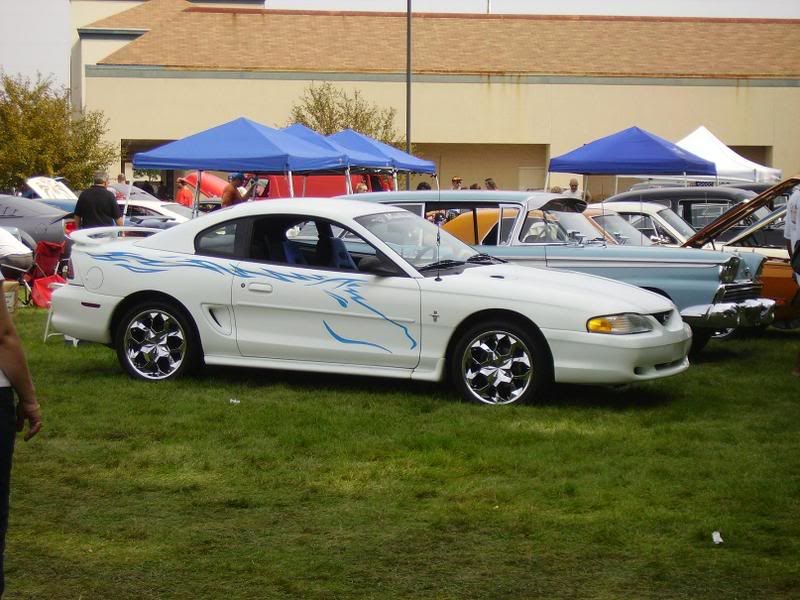 2006 Mid-Michigan Mustang Show In Birch Run,MI (old ugly head lights)
2006 NL Show
Decal at night before the Rims (pic from 2005)
First day I got the car, completley stock didnt even have a CD player!
Spyder Body Kit I'm Getting This Winter
I'm The President of C-Town Customz Car Club...looking for new members in Mid-Michigan If Your Intrested!?!?