Some of you may know me most of you may not. I know Iíve been very quite on the forums lately, Iíve been in deep thought contemplating the next part of my life. With that being said Iíve decided to sell my ride. This was a decision that did not come easy for me. Iíve put my heart and soul into the car and hope that it ends up in a good home with someone that will trully care for it. This isn't something that's easy for me...at all. It's had me in some pretty foul moods, I've almost been in devorce court twice since April over it.
Unfortunately, nothing has changedÖso I have to say farewell.
Below is a list of modifications added to the car, some are factory installed items and others are aftermarket parts. Iíve kept all of the original parts that have been taken off the car, throttle body, H-pipe with cats, coolant tanks, etc etc. So the car can be restored to original.
You can click on the link below which will take you to my website on GotStang. Most of the parts that have been installed have been photo documented on there. I know there are over 500 photos of the car posted on this site. The car has been a major part of my life over the last four years. Itís been my ride, my pride and my joy.
http://gotstang.com/profile.php?yellow360#jump
Car Details:
SALEEN S281 SC
Year:
2004
Type:
Coupe
Color:
Screaming Yellow
Engine:
281 w/ Supercharger & Nitrous
Wheel Size:
18x9 Fronts; 18x10 Rears
Milage:
19,850
Price:
$32,500 obo (serious offers only)
Engine Modifications:
Saleen Series IV intercooled supercharger (Whipple), Saleen air-to-water intercooler, Saleen forged steel crankshaft, 90mm Mass-Air sensor, 42lb/hr injectors, Dragon 75mm throttle body, Saleen "PowerFlash" computer calibration w/ 6500 redline, Team Breed custom cam covers
Racecraft Suspension:
Saleen Racecraft progressive rate front/rear coil springs, Saleen Racecraft N2 (nitrogen) gas shocks/struts, Saleen Racecraft 1.38" front and .94" rear sway bars, Saleen rear lower control arms, Saleen caster camber plates, Saleen 18" x 9" front and 18" x 10" rear chrome alloy wheels, Pirelli PZero Roso 265/35ZR18 (Front); 295/35ZR18 (Rear) tires
Performance Enhancements:
Saleen premium 13" brake system (Brembo), Saleen exclusive Maxgrip 8.8" differential w/ 3.27 gears, Saleen billet aluminum differential cover, Saleen short throw shifter, Brembo slotted rear rotors, JLT Cold Air Intake, AFCO Pro-Series heat exchanger, Optima deep cycle battery (Yellow Top), ZEX N2O EFI wet system, ZEX remote bottle opener, ZEX dual outlet purge kit, ZEX billet bottle brackets, ZEX blow down tube, ZEX bottle presure gauge, RPI Billet Ntrous Bottle Bracket, RPI Nitrous Line Wrench, CPR high flow fuel rails, Mezeir electric waterpump, Pi-thon hose clamps, Kenny Bell boost-a-pump, Canton aluminum radiator coolant tank, Canton aluminum power steering tank, Chicane Motorsports supercharger coolant tank, Magna flow X-pipe with flow through CAT's
Styling and Interior:
Saleen white faced 200MPH speedometer, Saleen Tachometer and gauge cluster, Saleen leather wrapped seats (front & rear), Saleen dual gauge pod, Saleen boost and air temp gauges, Color matched door panel inserts, Saleen performance driving pedals, Saleen Screaming Yellow paint, S281 Carpet door inserts, Raptor performance shift light, Speed of Sound A-pillar pod, Autometer air-fuel ratio gauge, Autometer nitrous preasure gauge, Saleen polished scuff plates, Stanlees steal hood shocks, Carbon fiber shift knob, Carbon fiber break lever, Carbon fiber intior trim pcs, Billet aluminum 8" shorty antena, Trunk lid mat (custom design), Windshield wiper delete kit, Misc. aluminum fluid caps, Polished Stanless steel radiator cover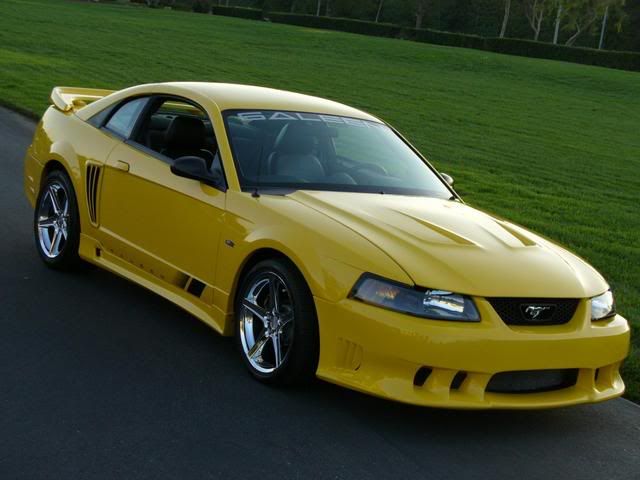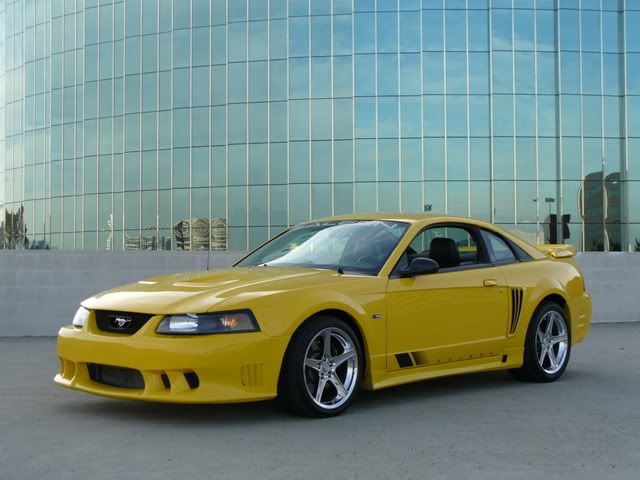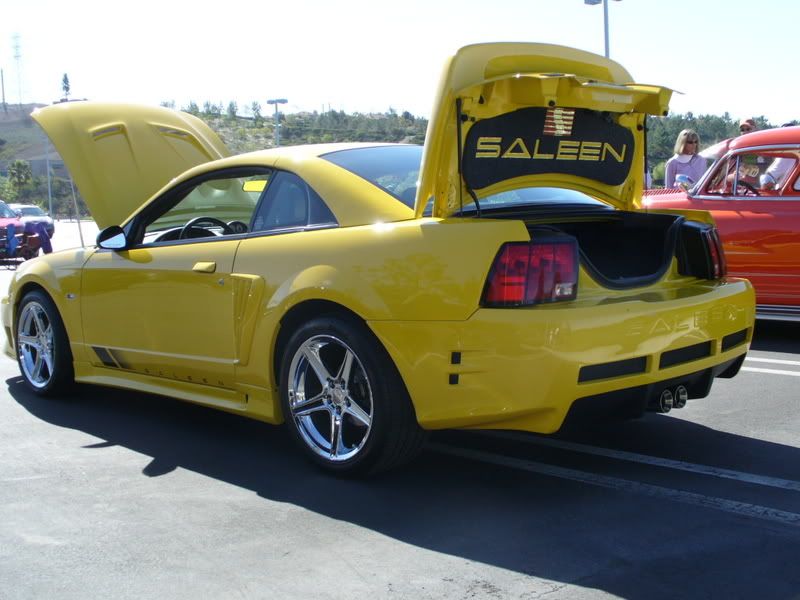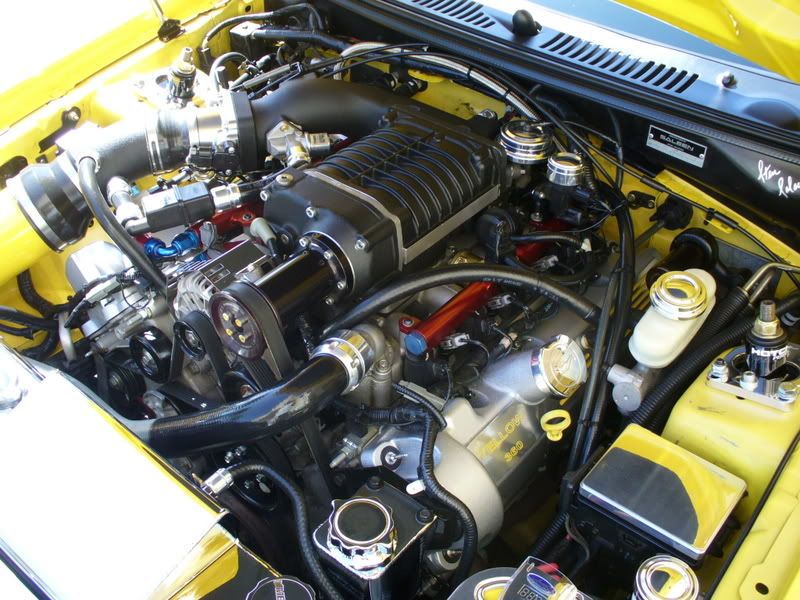 Please feel free to email me with any questions about the car. You can reach me at my yahoo account
yellow360saleen@yahoo.com
.
Thanks for your time and have a great day.