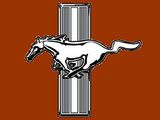 This is my daily driver 07' Redfire GT/CS Premium package. Just waxed it so I took some fresh pictures. Let me know what you think.
Front Fascia is different from a GT. Same as a Shelby GT. Also has the hood scoop.
Rear diffuser also like the Shelby GT. Gas cap has "California Special" on it. Steeda axleback exhaust with logo on the tips.
Sits freakin' low thanks to Eibach sportline springs. 18' factory rims with BF goodrich KDW's.
Interior: Black and Tan leather with heated seats and carbon fiber dash.
Check out the new pictures on page three of my lower control arm installation.
Thanks for looking, be sure and rank!