Hello Everyone! And welcome to the gotstang page dedicated to my 2003 Torch Red Mach 1 Mustang. (please be patient with me for the first couple weeks of July while I get this website finalized).
I have owned this car for about a year and a half, and have tried my best to modify the car both tastefully and effectively. The Mach has about 17,500 miles on it, and I am the 4th owner. The first owner decided to run it off a road in Texas, and nearly totalled it through a fence and field. It has since been professionally repaired, and tons of TLC has gone into making this car what it was originally meant to be again- a head turner! I prefer to run only fully synthetic Amsoil through the motor, and change ~4,000 miles.
As of right now the car is still naturally aspirated, but I have already purchased a Polished Procharger D-1SC supercharger kit, with the supporting fuel, intake, and tuning modifications on their way as well. It should be blown and running by the end of August.
As it sits now the car possesses the basic intake/exhaust/gears modifications enjoyed by many 4V stangs, and put down 317rwhp / 327rwtq on MC Racing's Dynojet Dynomometer in Kansas City, Kansas. Its standing 1/4 time comes in at 13.2 @ 107.5 w/ a 2.015 60' time (Heartland Park, Topeka). This time was run before the SLP headers, X pipe, and dyno tune, so in its current form I would hope the car could achieve a mid-high 12 second pass.
Although I'm working on the "GO" aspect of the mach, I also try to work towards a better "SHOW" quality for the car as well. I partake in many local and regional car shows from Kansas, to Colorado, New Mexico, and Utah. The mach 1 also has an ever-growing list of cosmetic interior, exterior, and engine modifications due to this reason.
When completed (yeah right!), I want the Mach 1 to be a extremely well balanced vehicle that can both place at shows, and put bowties and slopars in their place at the track, and handle some twisties to boot.
Following is the most current list of exterior, interior, engine, and performance (drivetrain, chassis, suspension, etc) modifications that I can produce, including the soon-to-be / realistic future modifications the car is about to see.
EXTERIOR / COSMETICS:
BBS RK Plasma Wheels 18x8.5 & 18x10
BFG KDW 295/35/18 fronts and 245/30/18 fronts
2003 / 2004 Cobra Sideskirts (not yet pictured)
Clear Corner Headlights
MRT Lowering springs (1.5" drop with isos removed)
CDC Rear Panel
30% Tinted windows
UPR Shorty Antenna
MUSTANG rear bumper inserts
Self- Painted rear lower valance (black)
Gloss black rear spoiler
MRT Hood Struts
Canton Coolant tank
Canton P/S Tank
Powdercoated to Match Valve Covers
Ford Racing Polished coil covers
Self polished throttle body and intake hat
UPR Polished fuse box cover
MGW Mach 1 Oil Cap
Misc. Chrome engine caps (Brake, windshield washer, etc)
Custom Mach 1 trunk Mat (granddesignmats.com)
INTERIOR:
Speed of Sound Dual Gauge Pod (AEM Wideband & Water Temp)
MGW Mach 1 Shift Knob
MGW Climate Control knobs
MGW E-brake handle
MGW Short Throw Shifter
Americanmuscle.com Mach 1 floor mats
LFP Clutch Quadrant
ENGINE / POWER:
SLP 1 3/4 Longtube Headers
SLP Catted X pipe
Magnaflow Magnapack Catback
SCT 4 Bank Switch Chip tuned by MC Racing, Kansas City, KS
JLT Ram Air Intake
PHP intake Spacer
Ported Throttle body and upper Plenum
DRIVETRAIN / SUSPENSION:
FRPP 4.10 Gears
Hans Racecraft Full length subframe connectors
Hans Racecraft Rear Shock Tower brace
Welded Axle Tubes
Eibach (front) / MRT (rear Lowering springs)
FRPP Aluminum Driveshaft
Maximum Motorsports Chrome Caster Camber Plates
COMING RIGHT UP....
Polished Procharger D1-SC kit(Sitting in Garage)
Aviator Fuel Pump w/ BAP
42lb injectors (in garage)
Diablo MAFia
Re-tune
Concept Gloss Hood Paint stripe
03/04 Cobra rear view mirrors
Upper and Lower control Arms
31 spline rear end.
UPDATE
After a 2100 mile road trip and 5 day weekend i'm back to upload some pictures! Here are a few general pictures of the mach 1 that have been taken somewhat recently. I just got some pics of the brand new 2003 / 2004 Cobra sideskirts that I installed last week- they really cleaned up the exterior lines of the car IMO, and for 290 shipped, painted to match from Tousley Ford...they couldn't be beat!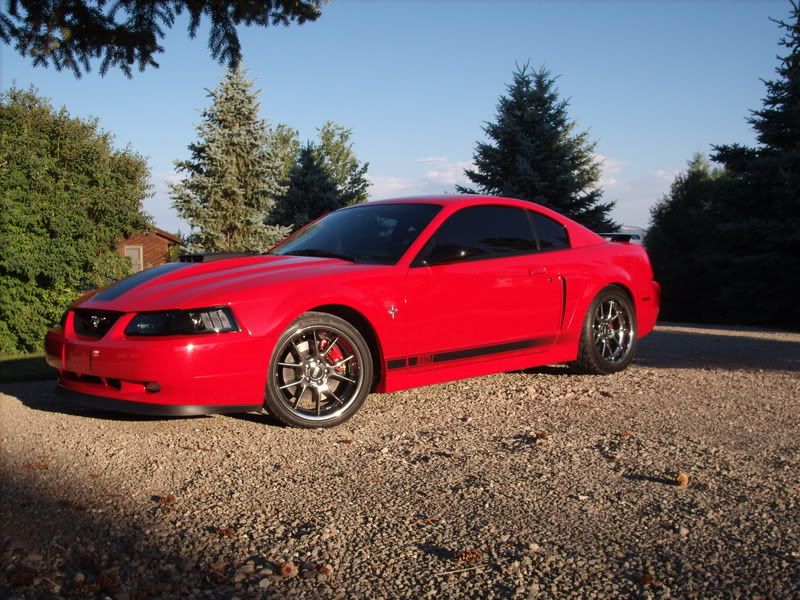 Some other recent pictures of the mach 1 around the house before the most recent round of mods and Sideskirts:
A Red, White, and Blue Family (other machs are my father's):
I'll continue to try and get current and updated pictures of the car throughout the next week, and complete this website. Thanks to all who have left comments, and expressed interest, and I look forward to seeing your stang's as well!
Thanks- Rex R